Saturday, November 13th, 2010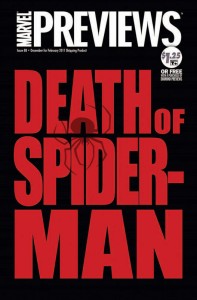 Marvel released this teaser image in a recent issue of their "Previews" magazine for February.
Marvel has yet to comment on the image. To me it makes sense that Peter Parker would die, his life is finally looking up in comics: he got a new girlfriend, a new job, he's member of the Avengers. Of course Marvel would kill him off now.
I know I've brought this up before in another post earlier this semester, but I am getting damn tired of comic book companies using the deaths of characters as marketing gimmicks to get people to read their books. You don't need to kill off characters to make good stories.
To learn more about what's going on in Spider-Man's world, pick Amazing Spider-Man #648 on sale now. It's great jumping on point for the series.